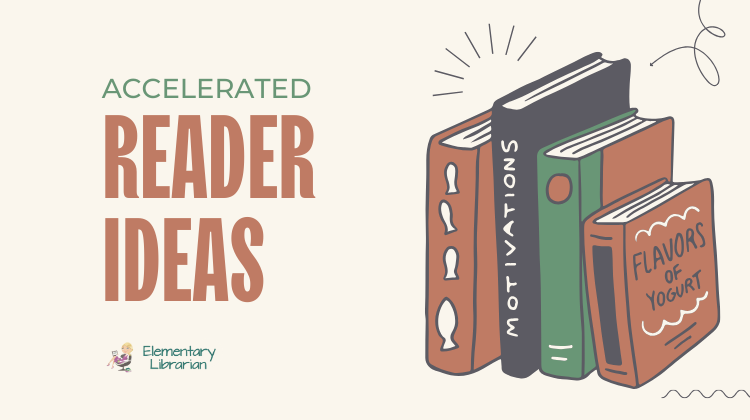 One of the frequent hot topics on my state's school library listserv is Accelerated Reader ideas - anything from Accelerated Reader rules, Accelerated Reader parties, even Accelerated Reader bulletin boards. Although I agree that there are some disadvantages of using reading incentive programs such as Accelerated Reader (AR) or Reading Counts, I believe the good outweighs the bad in most cases.
I'm going to talk about AR in this post, since that's what I have the most experience with. I believe most of these ideas could also work for Reading Counts, or any other reading incentive program you may be using in your school. I've worked at several different schools, and I will admit that reading incentive programs work better in some schools than others due to a number of factors. Based on my experience, I believe the keys to success with reading incentive programs are coordination, collaboration, and communication.
Coordination
I'm assuming that if you're a librarian, you coordinate the reading incentive program at your school. It's been that way at every school I've worked in, but I know this may not be the case in all schools. If you're new to your school, find out what has been done in the past. Ask the principal, classroom teachers, and students what's worked well and what hasn't. Next, develop a set of rules and incentive ideas for students. You can click here to see my rules. Feel free to use them as a guide to create your own. It's best to have a specific reward for students to work toward.
On that note, make sure you have a budget for rewards and know exactly how much it is. At my last school, my principal told me it would be no problem to take the students on an AR trip, but he didn't give me any concrete numbers or mention exactly where the money would come from. A few months later, when students were excited about the reward they had earned, I was told that there was no money. We eventually worked it out, but the experience left a bitter taste in my mouth.
AR Reward Ideas
Here are some AR reward ideas - things I've done in the past and a few things I've heard of others doing:
A trip to a local park
A trip to a local inflatable place
Popcorn, soft drink, and movie party
Ice cream sundae party (complete with fun toppings like gummy worms, marshmallows, various syrups, etc.)
Pizza party
Extra play time outside with bubbles and sidewalk chalk
Sock hop in the gym
Special lunch in the library
Breakfast with the principal
Most of those ideas have minimal costs. I've done an AR store in the past, where students "purchase" items with their points, but I don't recommend it. It's very expensive to buy the gifts, time consuming, and stressful helping the students figure out how many points they've used and how many they have left. I did an informal poll on my state's listserv a few years ago and concluded that most people who have tried AR stores don't feel that they are worth the time, effort, and expense.
Once you have established your rules and your rewards, it's time to move on to the next step.
Collaboration
This step is probably the most challenging, but I feel it's the most important. First, you need to get your principal on board with what you're planning for the reading incentive program. Have everything figured out and ready to go before speaking to your principal. Let him/her know what you're planning to do, how you're going to reward the students, and give him/her a copy of the rules and any other pertinent information. Try to finalize everything on the spot, because these things tend to drag out if you need to have a second meeting.
Be sure to establish who will be responsible for everything, such as goal setting, rewards, and other program maintenance such as reporting, point clubs, announcements, etc. At my school, classroom teachers are responsible for goal setting, and I handle all the other program maintenance and coordination.
Next, have the classroom teachers (or other people responsible for setting the goals) set a goal for each of their students. If they need help, here's a chart (scroll down to page 6) to give them an idea where to start. I try to make this as painless as possible by providing a spreadsheet of each homeroom's students with a blank box beside their names to enter their goal into.
If you have Infinite Campus, you can export the student names directly into spreadsheets, so most of the work is already done for you. I'm sure many other student information systems have this feature as well. You will then have to enter the goals into your program.
Keep it Simple
I make a special effort to keep things simple as possible for my classroom teachers, because they truly are the ones who make our AR program work as smoothly as it does. Each class comes for less than an hour each week, but they are reinforcing the program every day. Instead of requiring teachers to log into AR to monitor their students' progress toward their goals, I print a Goal History report for each homeroom every Friday. Teachers are welcome to log in at any time, but I know they don't always have time. Even this small gesture keeps them happy and makes them more willing to discuss the report with their students.
I am incredibly blessed to work with awesome teachers. I can honestly say they are a joy to collaborate with. My program would not be nearly as successful as it is without their help.
Once you get all those things in place, it's time to get the word out!
Communication
As I've mentioned before, I used to work in the corporate world. I spent 5 years in sales and marketing before I got into education. While I can't say I miss much about that life, I did learn a lot of things along the way. No matter what you're doing, effective marketing is critical. People can't act on something unless they're aware it's available, and it's your job to let them know.
I "advertise" my AR program in a number of ways. First, I talk to the students during library class. I explain the reward and what they have to do to earn it. We also go over the rules. I teach students how to take a test if they haven't already mastered it. Then it's up to them. I do a few reminders here and there, but we certainly don't force anyone to participate.
Parent Communication
Next, I communicate with parents. I created an AR brochure with Frequently Asked Questions to hand out at Open House. I also send a newsletter home several times a year, which includes information about AR Home Connect. I love Home Connect, because parents can log in from home to see how many points their child has. They can even sign up for emails that tell them when their child takes a quiz and reports their score. If you can get parents using it, it will save you a lot of time looking stuff up.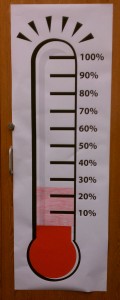 My favorite thing, though, is the school wide communication. I like to get some friendly rivalries stirred up. The way I do this is by using our Poster Maker to create some signs. If you don't have a poster maker (I recommend getting one if there's any way you can - they are amazing), you can always use poster boards, bulletin board paper, or even printer paper.
Our Library Goal Tracker
I found a goal thermometer graphic online and blew it up, banner sized. Each week, I calculate the percentage of students meeting their goal (in the entire school) so far and color in the banner. As you can see from the picture, about 25% of our student body has met their goal so far.
I also make matching half sized goal thermometer posters for each teacher's door and calculate for each homeroom each week. They put them out in the hallway and I color them in each week. The students love to compete with the other homerooms.
Last year, we did a special contest in the final nine weeks grading period. If 100% of students met their AR goal, we would have a day where "Kids Rule the School." We pitched it as a day where kids would get to vote on all their activities, including what to have for lunch and the activities they would do for the entire day (such as electronics time, movie, recess time, etc.). My principal jumped on board with the idea and helped me promote it over the intercom.
Guess what? We met the goal.
Every student in my school met their AR goal for the 4th nine weeks grading period! To celebrate, we had "Kids Rule the School" day, and I even had the mayor arrange for a fire truck to come and lift me up in the bucket so I could take a picture of the entire student body making a 100 on the ground! We made it in the local paper and everyone was so excited!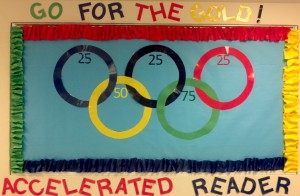 I also make a big deal about point clubs. When students earn 25, 50, 75, or 100 points for the year, I put their names inside the rings on my Olympics AR bulletin board. If they earn over 100 points, I will put their picture on a medal that will go outside the rings. I also have my principal announce new point club members each week. I think it's important to get the principal involved in AR recognition, because it shows that the entire school thinks reading is important. At the end of the year, I give special awards for point club members.
As I mentioned earlier, I've experienced varying levels of success with Accelerated Reader throughout my career, but I hope some of these ideas will get more of your students excited about reading.
What ideas can you share about reading incentive programs? What works in your school? Please share with us in the comments!