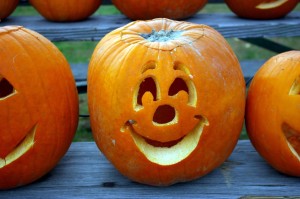 Have I mentioned that I love fall and Halloween read alouds? The weather is gorgeous here in Kentucky with a beautiful blue sky almost every day, and the temperature is in the 70s most days. It's football season and Halloween is just around the corner. Halloween is one of my favorite holidays, so I thought I'd share some of my favorite Halloween read alouds and chapter book recommendations with you.
Primary
Room on the Broom by Julia Donaldson and Axel Scheffler. This fun read involves a not-so-scary witch who picks up some friends after losing her hat. The book has nice illustrations. It has the perfect length for primary students.
The Little Old Lady Who Was Not Afraid of Anything by Linda Williams. This book has been around a long time. I remember reading it when I was a young girl. Several items of clothing are chasing the little old lady, but she isn't afraid. She eventually finds a clever use for them as well! Students love the sound effects that each object makes!
Clifford's Halloween by Norman Bridwell. Who doesn't love Clifford? Clifford wants to dress up for Halloween, so his friend Emily Elizabeth helps him with a costume. Things don't go exactly as planned, though. A great book to share with Kindergarten and 1st grade students.
There Was an Old Lady Who Swallowed a Bat by Lucille Colandro. Your students will beg to hear this one again and again! There are several different books about this little old lady and the crazy stuff she eats. I love the Halloween theme of this one.
The 13 Nights of Halloween by Guy Vasilovich. I bought this one last year at my book fair and it is always checked out, regardless of the season. This book can be sung to the tune of "The 12 Days of Christmas." It has awesome illustrations, and the students love to sing along once they figure out how it goes.
The Ugly Pumpkin by Dave Horowitz. This classic Ugly Duckling style book tells a story about a pumpkin no one wants for Halloween. Will the pumpkin have a happy ending before Thanksgiving? This book has the possibility of good discussion points for older primary students.
The Red Ghost by Marion Dane Bauer. This is a companion book to The Blue Ghost, The Green Ghost, and The Golden Ghost. I love these chapter books for primary students because they're scary, but just enough. My 1st grade class  loved it!
Upper Elementary Grades
The Monster's Ring by Bruce Coville. I love this story about a boy who is given a magical ring and uses it to turn himself into a monster, in order to protect himself from a bully. What seems to be a great idea at first glance turns into a big problem. How will Russell turn back into a regular boy? I often recommend this book to my reluctant readers. More often than not, they come back excited about what a good book it was!
In a Dark, Dark Room and Other Scary Stories by Alvin Schwartz. This is another one of those books I can't keep on my shelf. Kids love these stories, and also his Scary Stories to Tell in the Dark. They are constantly checked out of my library.
All the Lovely Bad Ones by Mary Downing Hahn. This is another one of those just-spooky-enough books for upper elementary students. This one tells a story about a brother and sister who travel to their grandmother's haunted hotel for the summer. In order for the ghosts to leave the inn, Travis and Corey must figure out why they are there in the first place. I have all of Mary Downing Hahn's books in my library. Students always check them out. I had a 4th grade teacher read one out loud last Halloween. Now the students are crazy about them!
Jason Strange book series.AAdmittedly, I have not read these books yet, but I ordered the entire set for my library. I haven't seen a single one on a shelf since they came in, so I assume they are a hit!
What are your favorite books for Halloween? Share your Halloween read alouds with us in the comments!