Spring is here and summer, which includes summer reading programs, is just around the corner. Make sure the children at your library are prepared with these hot titles. Get your hands on these exciting books to ensure that your patrons have plenty to read through the season.
1. Four by Veronica Roth
Upper elementary and middle school students who are fans of the Divergent series will love this prequel. Four tells about what happened in the Divergent world prior to Tris's entrance to the scene from the perspective of Tobias Eaton, also known as Four. The book is due out July 8.
2. Nelly Gnu and Daddy Too by Anna Dewdney
Along the same lines as her Llama Llama books, Nelly Gnu and Daddy Too introduces a new character who just wants to spend time with her daddy. Perfect for early readers or as a read-aloud, this book is due out in May.
3. Fancy Nancy and the Wedding of the Century by Jane O'Connor
When Fancy Nancy's uncle and aunt decide to take a non-traditional route for their upcoming wedding, Nancy is afraid that her first wedding ever will not live up to her fancy expectations. Girls who love Fancy Nancy will enjoy this new installment of her series, which is available now.
4. UFiles #1: A Dark Inheritance by Chris d'Lacey
In this new book, due out on May 27, Michael Malone discovers he has the ability to alter reality. This paranormal mystery will bring adventure to the older readers who visit your library, and the supernatural twist makes it a compelling read.
5. Pete the Cat and the New Guy by Kimberly Dean
Pete the Cat is back with his famous groovy shoes in this charming tale. Due out August 5, the next Pete the Cat book has Pete making a new friend who is very different from him, but cool nonetheless.
6. The Adventures of Super Diaper Baby by Dav Pilkey
From the creator of Captain Underpants comes a new hero. Clad in a diaper instead of underpants, Super Baby is sure to bring laughs from young readers in grades 2 through 5. It is due out on June 24.
7. Dork Diaries 7: Tales from a Not-So-Glam TV Star by Rachel Renee Russell
Coming out June 3, the seventh in the Dork Diaries series is sure to be a hot number this summer. The main question is whether or not Nikki Maxwell and Brandon will have their first kiss in this book.
8. Spirit Animals: Book 4 by Shannon Hale
Book four in the Spirit Animals series is due out on June 24, and series fans will want to see where the epic tale takes their favorite characters
9. A Pet for Fly Guy by Tedd Arnold
The next Fly Guy book will be out on May 1. This is the first Fly Guy picture book. It maintains the zaniness that has made Fly Guy so popular with readers, but brings it to a new level for younger readers. In this book, Fly Guy is on the search for a new pet.
10. Infinity Ring: Book 8 by Matt de la Pena
Available July 29, the eighth installment of the popular Infinity Ring series is sure to please fans of the author's work. Because the work involves time travel, it is most appropriate for older readers. Those who are already enjoying the series will be itching to see the next one on your library shelves.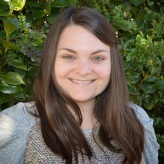 Today's post is written by Zoe Luderitz. Zoe is the Content Manager of Alibris, an online retailer of new, used, rare and out-of-print books. A true bibliophile, Zoe's favorite past time is to tuck herself away in a coffee shop with a good book, bagel and hot coffee in front of her.
What book are you looking forward to this Spring/Summer? Leave a comment!