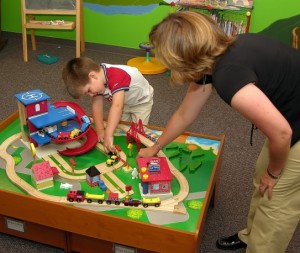 For the first time this year, I'm both a teacher-librarian and a parent of a school-aged child. I think it's really hard to truly understand other people unless you've walked in their shoes for a while. I used to think that parents were unreasonable when it comes to their children in school situations. Since I've had a child of my own, however, I have to say I can now see both sides of the story. Today I'm writing the letter I wish I could send as a parent. As there are always two sides to every story, I'll follow this up with the letter I wish I could send as a teacher next week.
Dear Teacher:
First, I'd like to thank you for what you do. It's not said often enough, but I truly appreciate your investment in my child's education. Thank you for the extra things you do, like staying at school after working 8 hours for training, meetings, and working various school events (often on your own time). I know these things are done in the interest of improving my child's educational experience. Thanks for hanging in there year after year despite all the extra demands that have been placed on your shoulders at a district, state, and national level. I recognize your job is much harder and more stressful than most people give you credit for.
With that in mind, I've had some concerns throughout the school year that I would like to address. I would really appreciate it if you'd treat my child the way you would want your child to be treated. Sometimes I feel like my child is in prison school when I see you practically yelling at him for squirming around in line, not standing like a perfect little soldier. He should be expected to follow rules, but please make sure they are rules he is developmentally able to follow. On that note, I want to say I don't even mind if he gets in trouble occasionally... when he deserves it.
While I'm fully aware of the fact that my child is far from perfect, it would be great if you could say something nice about him once in a while. I know your time is valuable and there's never enough of it, but even a little bit of feedback on the work you send home is better than nothing. Parents never tire of hearing positive things about their children. It helps soften the blow when those negative things inevitably come up.
As a parent yourself, I'm sure you understand that I want my child's school experience to be the best possible. Don't be afraid to ask for my help. I know there are boundaries you need to uphold, but please know I'd be happy to work on things at home for you if it would enhance your instruction or even make your life a little easier. Please don't make excuses for not having special events like class parties just because you don't want to do them. Keep in mind that what might be old hat to you is a brand new experience for my child and me.
Furthermore, I'd really appreciate it if you would try to be understanding on the many days I don't have it all together. Please don't look at me like I have three heads when I shamefully admit I couldn't find my child's backpack or lunchbox while I was rushing out the door to get to work. Try to remember the days when you had a four-year-old and a two-year-old while working full time. I feel bad enough already.
Finally, and most importantly, try to think about the reasons you became a teacher when the days are tough. I know we all have bad days, but the children should never know it. It makes me sad when my child comes home saying he's scared because you talked "meanly" to him. Teaching is not just another job. You are a role model for these little people - sometimes the only one they have.
Thanks for your consideration,
A Parent
Do you have anything you'd like to add to this letter? Think I'm being unreasonable? Share with us in the comments!