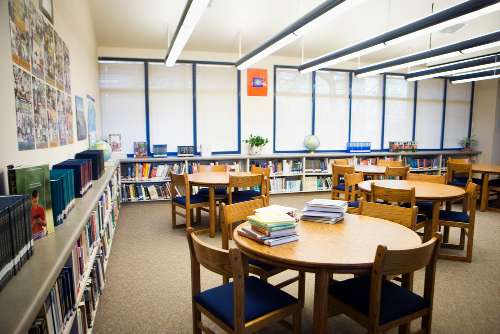 Every day people want to know more about my library stations (or library centers). Incorporating them in to your library can help students take ownership over their learning and also free up more time for you to take care of other tasks during a library class.
I gave a brief explanation of my schedule on this page, but I hope this post will help clear up any confusion. If you're looking for more specific training on the topic, consider checking out our Library Centers eCourse.  Looking for ideas to use with library stations? We share some here.
Why Do You Use Library Stations?
I primarily used stations the first two years because I worked at a school where I saw each homeroom for an hour each week. The students were not very well-behaved. Standing in front of them the entire class period just didn't work. Working with smaller groups helped keep their behavior in check, so I thought we'd try something new. Surprisingly, it worked really well. The students liked it better. I liked it better. Best of all, they learned much more in a small group than in the whole group. Win-win situation for all involved.
I don't see my students for an hour. Will this still work?
Fast forward two years to my current school. I see these students for only 35 minutes each week, so I wasn't convinced I could make centers work. At my former school, I had 3 groups and switched stations every 15 minutes, leaving about 15 minutes for checkout at the end of class. I discussed this with my husband one day, and he said, "Why can't you just rotate every week instead of spending just 10 minutes per station during a single class?" Brilliant! Sometimes you just need a little kick in the pants to realize you don't have to do things the way they've always been done. Rotating each week means that students get at least 30 minutes in each station.
So, how does this work exactly?
I plan my stations according to how many computers I have in the room, because I always have a computer station. My library has 9 working student computers (most of the time), so my groups have no more than 9 students. On the rare occasion that I have a class with 28 students, I form one group of 10 and I let a trustworthy student use one of my teacher stations. This doesn't happen often, of course, because there's usually at least one person absent. Have your groups established ahead of time. I display mine on the Smartboard each week. Don't change them unless there's a problem.
The other two stations vary depending on what we're working on at the time. I usually set up one station for review. Those students will work on a skill we've already discussed, so it requires minimal teacher involvement. That frees me up to work with the third station. I normally introduce something new in that one.
That sounds pretty good. What are the biggest challenges?
It's not a perfect system. You do have to teach the same library lesson plans three weeks in a row. Plus sometimes things come up in the other stations that you have to deal with. My rule is, "Ask three before me." If you ask three classmates for help and they don't know the answer, then you can ask me.
I don't have many behavior problems in stations. Be sure to keep mischief makers separated as much as possible. I use the Group Maker from the Super Teacher Tools website to randomly create my groups. Sometimes you have to switch a few students around, but it's a real time saver once you get the classes typed in and saved.
If you have to squeeze book checkout into your weekly class time, stations will be even more of a challenge. I think you'll find it's worth it in the long run, though, once you get your procedures in place. Try to automate checkout as much as possible, especially if you don't have an assistant, like me. Make barcode cards for each student. This will help you avoid typing their names in. If you have to, make one station the "checkout station." Then work with those students until they get the hang of it.
The bottom line is this: you can only do the best you can do with the time and resources you have. I always try to keep this in mind when I find myself getting frustrated.
That doesn't sound so bad. What are the benefits?
We don't always have to come up with the latest and greatest innovative activity to convince our students that library class is awesome. The truth is, kids really don't want a dog and pony show every time they walk through the doors. They'll tell you they do, but it's really not true. Kids need rules and structure. The beauty of what we do in the library is that we can change around the activities within the confines of that structure. It still seems like something cool and fun, even though it's really not that groundbreaking to us.
I love library stations because the kids are working, but they're doing it in small groups. They do more group teaching than teacher led activities. It gives them different and exciting activities to do each week, but you won't feel like you always have to put on a show.
If you're following my library lesson plans, I have stations already set up for you. Each month, I do a station overview in Week 1, then Weeks 2, 3, and 4 are the individual stations. I do my plans this way so they'll work if you want to use stations, but they'll also work if you prefer to teach the whole group. I sometimes switch it up a little in November and December, since they're short months because of the holidays.
Are you using library stations? How are they working for you? How do you make library stations work with your schedule? How are you overcoming challenges? Please share with us in the comments!