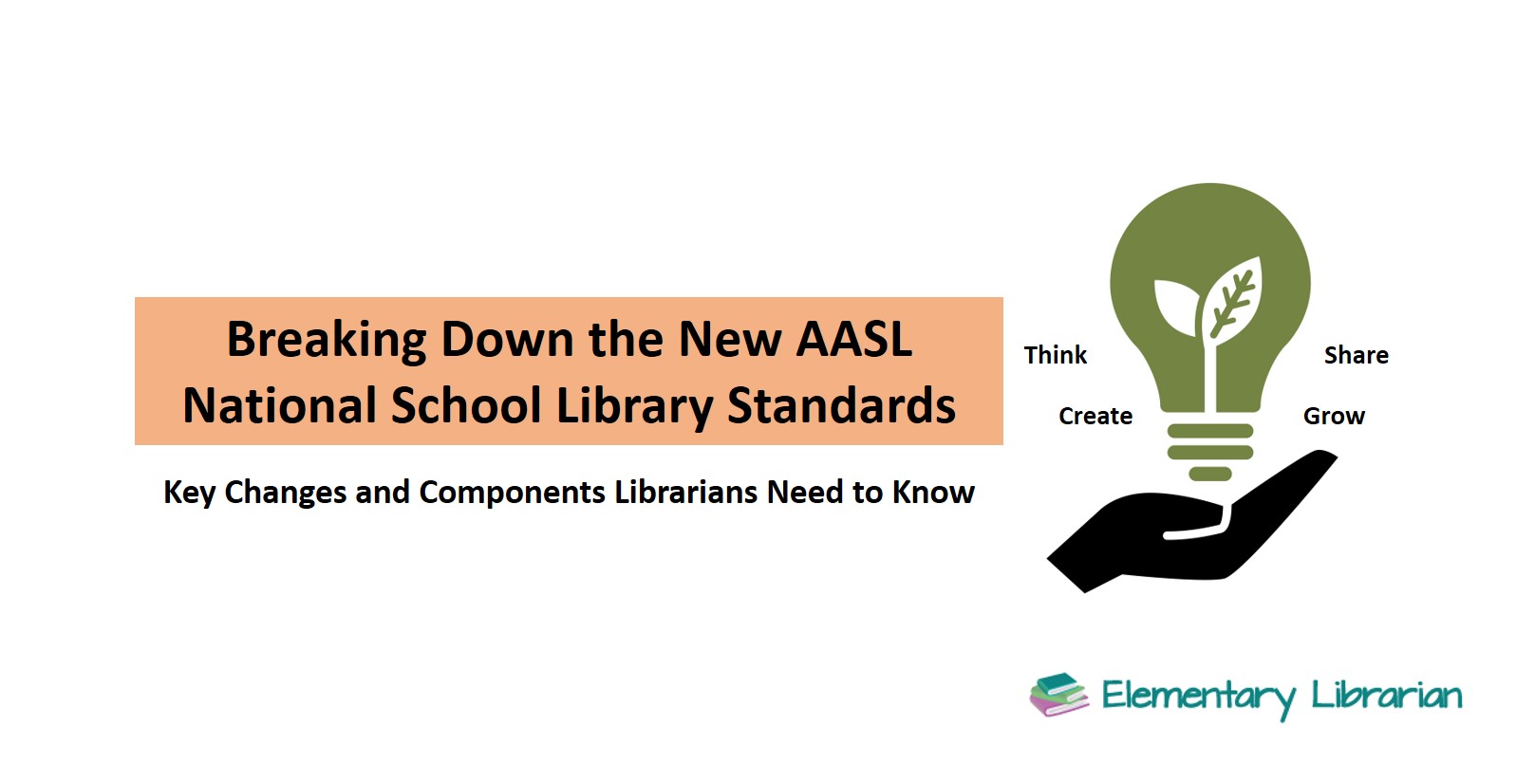 To help you get up to speed with the new AASL National School Library Standards, we've broken them down into an easy-to-understand guide, complete with charts outlining the key components.
Elementary Librarian is working diligently to update our lesson plans based on the new standards in time for use during the upcoming school year.
Standards, Not Suggestions
In November 2017, the American Association of School Librarians (AASL) introduced a new set of standards designed to enhance the previous National School Library Standards and create a encourage higher-level learning in libraries that are constantly changing and incorporating more digital and visual media resources.
Previously, the National Library Standards were promoted as guidelines for school librarians. As a result, many librarians saw them as merely suggestions. By emphasizing the word "standards," AASL hopes school librarians will take the new standards more seriously and work to implement them within their libraries. The standards were created with input from school librarians across the United States to help ensure that they contain information librarians can actually put to use within their schools.
Streamlined, Easy to Understand Design
Previously, many librarians found that the National Library Standards were repetitive and often difficult to follow. A large amount of text, multiple documents, and a lack of clear structure made it hard to delve in and ensure that librarians were following the standards closely. The new standards take three different sets of standards and combine them, incorporating a parallel structure that integrates objectives for students, librarians, and school libraries. The standards have also been written to emphasize key terminology and to reduce repetitiveness, both which make them easier to follow. The standards themselves focus on six key areas:
Inquire
Include
Collaborate
Curate
Explore
Engage
These key areas are called foundations and the standards provide competencies to help implement each foundation for students, librarians, and school libraries. In addition, each foundation is connected to four key domains that represent the inquiry process:
The following chart shows how the standards are outlined:
FOUNDATION
Commitment (Explanation of Foundation)
DOMAIN
Learner Competencies
School Librarian Competencies
School Library Competencies
A. Think
· Two to five competencies
· Two to five competencies
· Two to five competencies
B. Create
· Two to five competencies
· Two to five competencies
· Two to five competencies
C. Share
· Two to five competencies
· Two to five competencies
· Two to five competencies
D. Grow
· Two to five competencies
· Two to five competencies
· Two to five competencies
An overview of the standards can be found in the AASL Standards Framework for Learners pamphlet.
Competencies to Reach Learners (and Librarians) Where They Are
Included in the standards are core competencies. Unlike many sets of standards for other subject areas, the competencies included in the AASL standards are not linear. Some students and librarians may benefit from accessing the competencies based on their individual needs and go through them somewhat randomly. Others may choose to progress through the domains of think, create, share, and grow, completing the competencies under each domain before moving on to the next one. The key is that librarians can use the competencies to provide a clear understanding of where students are at and how the librarian and school library can best support students in their current areas of need.
Emphasis on the Partnership Between Learner and Librarian
As followers of Elementary Librarian are well aware, school librarians and library media specialists are not simply people who sit behind a desk and check out books. They are teachers just like other members of the faculty. The new AASL standards see school librarians as partners in learning and provide competencies that connect to their different roles and their importance in the school environment. Based on the AASL standards, school librarians are seen as:
Leaders
Instructional partners
Information specialists
Teachers
Administrators (of the school library)
Librarians should be involved in regular faculty meetings and should play a role in curriculum planning. For example, a school library is not just a place for students to conduct research assigned by another teacher. It's a place for librarians to help teach research skills. Therefore, librarians and teachers should work together to develop lessons and assignments for students.
Through the AASL National Standards for School Librarians, the AASL hopes that librarians will collaborate with other educators to create challenging learning opportunities for students and help students to recognize that learning can take place anywhere. The standards give students the tools they need to think, create, share, and grow to become lifelong learners and they empower librarians to become key players in the process.
The AASL provides additional resources to help school librarians understand the standards on the AASL website.