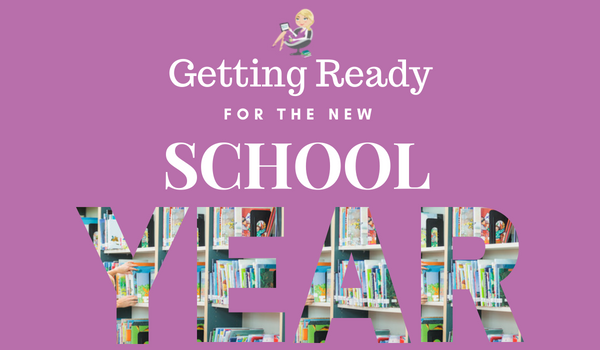 This post is written by Nichole Baumgartner. Nichole is an Elementary (K-5) librarian. She works at Carlin Park Elementary in Angola, Indiana. She sees classes every day, as well as doing recess duty, lunch duty, and aiding in the Kindergarten and Deaf and Hard of Hearing rooms at her school.
If you are like me, last year ended in a haze of overdue books, last minute requests from teachers, and so many returns that you are probably STILL shelving them. With all that, it is hard to believe that summer is over. It's time to get the library in order, finish all that extra shelving, and get your lesson plans down. Before you know it, kids will stream in the door wanting to know what is new since June. But where do you start? How do you determine what will work for you and your library? And how do you even make a lesson plan? If you are like me, you started your librarian job a little lost, and found the answer through trial and error. 
I left last school year feeling overwhelmed. I inherited a library mid-year the year before with no training. I had no idea of what to do with my K-5, 30 minute, twice a week library classes. When last year started, I had high hopes of being the "perfect" librarian. It was my first full year as a librarian. I wanted to be the fun, upbeat teacher. I wanted to be someone the kids all loved to come see. I wanted them to think the library was an awfully special place. But how would I get there?
I had done the research. I found this blog (Elementary Librarian) as well as a few others.  I bought the book "The Centered School Library" by Cari S. Young. Still, I didn't know how to start. I had no idea how to really implement the idea of doing a lesson and stations while still checking out books. 30 minutes just did not seem like it could hold all that. I tried alternating checkout days. One day was for checkout. The other day was for a lesson or fun activity, but that didn't work. Kids inevitably forgot what day was "book day" and still wanted time to look for books. Sometimes teachers wanted them switching books every day too. 
Eventually, I found myself doing nothing. The kids would come in, sit down, look for new books, checkout the books, and then leave. That was all we had time for. Sure a few kids didn't need books during checkout. However, most took the whole 20 minutes to find a book. Why try to force something that wouldn't work? Inside, I felt like I had failed. I was a boring librarian.
I still looked for new lessons and new ideas, but they all fell through. I would try a lesson, spending 5 minutes to explain a task and demonstrate it, but it seemed like we always ran out of time. Students still needed to look for books and next thing I knew, my next class was waiting at the door. It just wasn't working.
Then spring break rolled around. I knew if I was going to do anything that year, this would be my last chance. I was desperate to do something other than the boring old sit and look at books for 20 minutes. I had spent hours looking on Pinterest and reading blogs, trying to find a step by step explanation of how to make lesson plans and implement them. After searching and searching, I decided to just jump in with both feet. I polled the kids and asked what they thought of stations. Turns out, they were just as enthusiastic as I was. So, we tried it. I didn't do any fancy matching to the core standards right away. I didn't worry about involved stations. I went easy. 
I started with five stations. They included: a puzzle (with books about the puzzle subject) station, a set of dry erase games and activities (crosswords, mad libs, etc), a partner read station, a "Special Book" area where I kept all of my LEGO books, OLOGY (Monsterology, wizardology, those types) and the 3D books, and a bookmark station where students could color and design a bookmark. Because I had teachers who wanted students to check out books every library, I decided I would split library in half. For 15 minutes, one half of my class would go to their stations. At the same time, the other half would look for books. Then we would switch. The stations were low key. They were easy to understand. It took a little finagling to make sure I gave equal time to each group. I had to resort to setting a timer on my phone, but it worked. I saw more excitement in the library and the kids seemed to really enjoy the stations. Splitting the time in half worked too. Even those students who didn't check out books would have something to do.
I loved it. I ended last year feeling much more accomplished and ready to for this new year. I still feel like I am spinning my wheels a little bit and not quite sure where I want to go with, but I know that it won't be as bad as I make it out to be. Even doing small stations, not full lesson plans, I know that I can make a dent and still make library an enjoyable special. I still need to hash a few things out. For example, what do I do for mini lessons? What do I want to teach each grade? How should I structure my library? However, I know it will come together.  
At the end of the day, what I want you to know is that things will never be easy and just fall into place. Take that leap. Just try something, anything. If you do, you will begin to see how it works and doesn't work with your library. The library is a place for learning for everyone, even the librarian. It doesn't have to be perfectly laid out and organized. Trust me, the kids just want to do something fun. They are more than willing to try a few ideas, even if they ultimately don't work. Just start with the basics and see how that works. You can move on from there. Good luck, and don't give up!
Elementary Librarian's Note: If you're also feeling lost in the library, check out our Library Lesson Plans. They give a step-by-step plan for every day, including all resources you'll need!
Feeling overwhelmed at the beginning of the school year? Let us know what's stressing you out in the comments!