School starts very soon for many of us, so I thought I'd start thinking about some good back to school read alouds. Here are a few of my favorites.
I love Judy Sierra's imaginative story called Wild About Books. It's a story about a librarian who mistakenly drives a bookmobile into the zoo. Despite the mix up, the librarian is able to help every animal find the perfect book for them. My favorite thing about the book is the rhyming throughout it. I'm not always a fan of rhyming books, but this one is clever and a lot of fun! I typically read this book to my K-2 students. To extend the activity, have students choose an animal to draw and verbally explain (or write for older students) what kind of book that animal likes to read.
 Another book I like to use is The Shelf Elf by Jackie Mims Hopkins and Rebecca Thornburgh. In this story, Skoob the Shelf Elf is starting a new career in the library after he left the shoemaker's shop. He learns all about book care and library etiquette in this rhyming tale. This one's a little lengthy, so I would recommend it for grades 2-4. The book has very nice illustrations, so you might want to put it under a document camera on your interactive whiteboard so every student can get a good look at them. Some schools have started using a Golden Shelf Elf award like the one in the book that they give out weekly to the homeroom that shows excellent behavior in the library.
Library Lion by Michelle Knudsen is another fun book to read at the beginning of the school year. It's about a lion who visits the library and learns to follow the rules. This story is all about times when you must follow the rules and times when it's okay to break rules. The beautiful illustrations by Kevin Hawkes really make this a great book for young children learning about the library.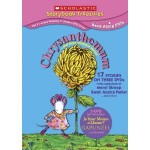 Even though it's an older book and not directly related to the library, I still love Chrysanthemum by Kevin Henkes. This is a story about a little girl who goes to school and gets made fun of because she has an unusual name. When the school gets a new music teacher with an unusual name, things start to look up for Chrysanthemum. This link is to the Scholastic DVD. I am a big fan of the Scholastic story DVDs - especially this one.
I could go on and on about this subject, but I really want to hear from you! What's your favorite book that you always include in your back to school library lesson plans? Don't be shy! Tell me in the comments.