What do you do to stay organized throughout the school year? If you're anything like me, you wear many different hats at your school. I'm the librarian/media specialist, a reading teacher, website coordinator, Accelerated Reader coordinator, outdoor sign updater, book shelver, book repairer, etc. Pair these duties with the fact that I don't have an assistant and there's potential for stress and chaos.
Based on my years of experience, I've come up with a few library organization tips to keep the stress level to a minimum. First, I spent the entire summer writing library lesson plans to use for the upcoming school year. It wasn't exactly how I would have preferred to spend my time off, but the effort will pay off during the school year when I don't have to worry about what I'm going to be teaching every week. I've also been working on an AR Guide for Parents to hand out on Open House night next week as well as library policies. I hope to have those ready to share with you very soon. The beauty of this (for you) is that I've done all the work, if you use my library lesson plans and resources.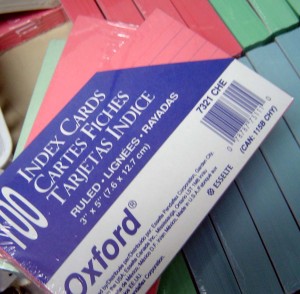 Next, I create library checkout cards for my students. Mine are pretty low tech. I just get on Destiny, print out barcodes for each student, and stick them onto different colored index cards. I use a different color for each homeroom, and I keep them in an index card box right beside the scanner so the students can't lose them. I have the students decorate their cards at the beginning of the school year so it's easier for them to find their card in the box. This also helps younger students who may not be able to read their name yet. This year I'm going to laminate the cards to help them last a little longer. When students come in for book checkout, they bring their books to the computer and scan their card, then their books. This takes some practice, and the students don't always do it exactly right, but it will buy you a little bit of time to help students find books if you don't have an assistant.
At my school, we have open library time every morning. To keep things less chaotic, I require students to have a library pass to visit. This way, I know that their homeroom teachers have accounted for them. In the past, I've given teachers photocopied passes, but this year I'm going to provide each teacher 3 laminated passes. This way there won't be more than 3 students from each homeroom in the library in the morning. I will share my library pass design with you as well!
Finally, I "employ" several library helpers each year. At the beginning of the school year, I have interested 5th grade students fill out a library helper application. These students have to be willing to come in one day each week during their recess time. Ideally, I'd like my library helpers to shelve books, but they don't always do a good job, so I assign them other small tasks like putting barcode stickers on index cards or delivering AR reports to teachers. I am glad to have any help I can get. I am working on my library helper application as well, and I will let you know when it is available for you.
What idea can you share that would help everyone as school starts this year? Please share it in the comments! Also, if you're not signed up for my email list, sign up by clicking here! My August newsletter will be going out soon and you won't want to miss it. You'll also get a free sample of my library lesson plans, just for signing up!