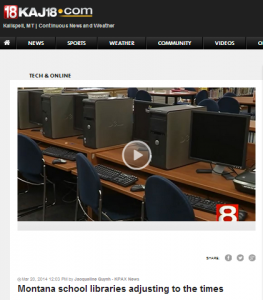 In my weekly search for school library news, I found this encouraging article out of Montana. This is a district that clearly recognizes the changing landscape of school libraries and changing the role of its librarians to meet today's student needs. Does your district recognize the need for evolving school libraries?
As I've written before, I believe school libraries are more relevant today than ever before... IF they are evolving to meet the needs of 21st Century students. I love this quote from the Mediamorphosis website, "The library, as we once knew it, may no longer be relevant. School librarians, as we once knew them, may no longer be relevant. And, yet, this is undoubtedly the most exciting time in history to be a librarian. For the first time in history we are moving from a time of information scarcity to one of information abundance." I could not agree more.
I also love this article about school libraries from the National Association of Independent Schools, especially the "What's Hot, What's Not" table. I feel like many of today's library debates turn into a finger pointing game. Some librarians want to blame districts for a lack of support, and some districts see librarians as unwilling to change what they've always done. I think it's important that neither side "win" the fight. Students should be the winners here, and that means everyone is going to have to bend a little.
For districts, that means librarians are going to need time for collaboration with teachers, time (and funding) for meaningful and relevant professional development, and up-to-date technology tools. For librarians, we have to forget about the way things were done in the past and be willing to change our instruction to help students navigate an information world that is constantly changing. This may seem like an uphill battle, but it is truly the key to school library success in the world we live in today.

5 Simple ways to make your library the heart of the school
1. Communicate regularly with students and parents. If you have a special event coming up, make sure everyone knows about it! You can send a note home, put it on the school website and/or social media pages, or use an automated call system. I share some ideas about communicating with parents in this post. 
2. Find time for collaboration, even if it's passing by another teacher in the hall. Check out this post for more ideas.
3. Make an effort to involve your administration in library-related activities. Did your students create a cool Prezi or FlipSnack? Invite your principal in to watch the presentation! Better yet, involve your principal in fun reading incentives, like this one where students were given a piece of tape for meeting a reading goal and used it to tape the principal to a wall! Local news outlets love these stories, which could give your school library some free positive publicity!
4. Keep displays current, and think outside the library! Find out if there's an unused bulletin board out in the school building, or if that's not possible, decorate the outside library door. These displays remind students of the library even when they're not inside it.
5. Help students stay motivated by offering various incentives throughout the school year. You could offer 10 minutes of extra recess to the class with the fewest late library books, or popsicles for the class with the best behavior for the week. Check out this post for more ideas on behavior management in the library. I like to offer incentives because it reminds students of the library even when they're not there.
How do you make your library the heart of your school? Share your ideas with others in the comments!