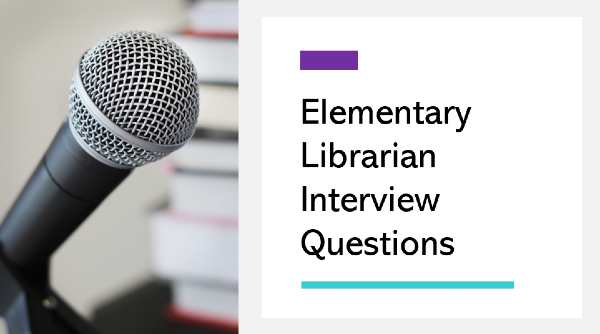 We've had a lot of requests for elementary librarian interview questions lately. These days school librarian and media specialist jobs can be hard to come by so it's important to make the best impression during an interview. Knowing how you'd answer some of the top questions ahead of time can give you a leg up on the competition. Use these questions to ensure you're prepared.
Already got a job? Feel good about an interview? Sign up for our FREE training for new librarians by clicking here!
1. Tell me about yourself.
Here's an opportunity to give the interview committee some personal information about yourself. This part of the interview is critical – it gives the committee a chance to learn more about you as a person, not just a librarian. If the committee is able to connect on a personal level, it will make everyone feel more at ease during the interview process.
I always start by telling the interviewers where I grew up, a little about my college experience, work experience before I started in education, and how I got into education. I also talk about my husband and children, hobbies, and how I'm involved in church and other community activities.
2. Tell us about your qualifications for the position of Library Media Specialist.
Always start with your experience. Experience means much more than education. Have you been a librarian before? Talk about your years of experience. How have you impacted student learning and encouraged reading? Or if you have been a teacher, but not a librarian, talk about your experience as a classroom teacher. If you have never been a librarian or classroom teacher, talk about a practicum experience or other experiences in the library.
3. What is your vision for the school library?
This is a tough question to answer, and may vary based on your personal education philosophy. I recommend having some notes available to refer to, or better yet, a handout that details your mission and vision for a hypothetical school library.
If I were answering this question, I would say something like this:
I believe school libraries are a critical component of student learning in the 21st Century. The library should be at the heart of every school – it belongs to all students and teachers, not solely a librarian. Ir is a place for learning and discovering within the context of our academic standards and beyond. The library is also a place to help students learn to effectively and efficiently find information, both in print and online. However, our most important job as librarians is to help students discover a love for independent reading.
4. How could you, as the school librarian, connect what you do in the library to today's emphasis on student achievement and the Common Core standards?
The librarian should collaborate with teachers whenever possible in order to make curricular connections and assist with teaching Common Core standards. If the library schedule is flexible, this collaboration could be regularly scheduled. If not, it will have to be more informal. You can find some of our ideas for teacher collaboration on a fixed schedule in this post.
The good news here is that if you are using Elementary Librarian's library lesson plans, they are aligned to both Common Core standards and AASL standards. If the principal/hiring committee is really into standards (I think most are these days), they will appreciate that.
5. How would you promote reading?
I could talk about this one all day long. We use Accelerated Reader at my school, so check out this post for lots of ideas on that. You could also discuss book fairs, book talks, book trailers, summer reading programs, collaboration with the local public library, author visits, book review blogs, etc.

6. How would you integrate technology into your instruction?
This answer to this question may vary based on the technology available, but here's a sample answer.
I will teach students to use the online library catalog to find books in our library. We will also learn how to efficiently and effectively find information online using online encyclopedias and search engines. I will regularly model the ethical use of information to students and teachers. Also, I plan to attend conferences and professional development events to stay up-to-date on the latest advances in educational technology.
7. What is your collection development and maintenance strategy?
I regularly survey students and teachers to find out the types of books they would like to read. Also, I seek out professional reviews from publications like School Library Journal and Booklist, and read recommendations on collection development tools like Follett Titlewave. Of course, I try to regularly read children's books for consideration as well. And I regularly weed the library's collection to make room for the most recent and relevant information.
8. How do you deal with discipline problems?
This question also comes down to personal preference, but here's what I do.
I put behavior procedures in place starting on day one. You can find all our library behavior information by signing up for our free library lesson plans. Also, check out the post about behavior management in the library and our podcast about How Class Dojo is Changing My Library. The main concern with this question is the interviewer wants to be sure you're able to handle your own classroom issues, with the exception of extreme cases.
9. What are your weaknesses?
Ah, an interview classic. I hate this question for so many reasons, but someone has probably been asked it in almost every interview I've ever been a part of, so be prepared for it. Ask ten people for advice on how to answer this question and you'll get ten different ideas. Respond with a genuine weakness and what can be done to overcome it. This shows that you acknowledge your shortcomings and are constantly trying to improve.
I always say that math is a weak point for me (which is true), and jokingly add, "that's why I became a librarian." Of course, I can then follow that up by talking about how technology has helped me improve my math skills through a love of working with data in spreadsheets (nerd alert!). Math might not be my strong suit, but Excel doesn't make mistakes.
Try to avoid using weakness that could be viewed as a strength, such as, "I'm a total workaholic! My job is amazing. It's the place I want to be more than anywhere else." To me, this is totally fake, desperate, and untrue. Just don't do it.
10. What are your favorite children's books?
Bring a list. Always. Trust me - your mind will go blank in this moment. It's happened to me before and I'm pretty sure it cost me that position. Name and describe a few favorite titles and why you enjoy them. I think it's nice to choose some books that maybe aren't award winners or super well known. If you've worked in an education environment in the past, share student reactions to the books as well.
Another thing to consider on this question: be aware of classic books and have a few in mind to discuss. I totally blanked out on this question at another interview.

Questions for the Panel
Toward the end of the interview, the principal (or main interviewer) will inevitably say, "Do you have any questions?" Always be prepared for this. Have questions written out ahead of time. Some of them may have already been covered during the interview process, but try to ask a couple of questions anyway. This shows you've done your homework and also relays how serious you are about the position.
Scheduling: What type of scheduling would you have - fixed or flexible? A combination? Ask to see a copy if it's available.- Extra duties: Besides the library, what other responsibilities does the librarian have? Is there time built into the schedule for those extra responsibilities?
Help: Is there a library assistant? Are parent volunteers available? Would students be available to help during the school day?
Technology: What kinds of technology are available to use in the library? Does the school subscribe to any online databases or other web based programs?
More Elementary Librarian Interview Tips
It's always a good idea to leave the interview committee with something that demonstrates your work. Once, I lost a position to someone who created a large binder of ideas for the committee. I brought only a resume and a couple of book lists.
Here are some ideas of things you could leave with the committee:
- Sample mission and vision statement for the library
- Lesson plans you've created (or use some of mine)
- Activities you might use in your classroom
- Links to Prezis or LiveBinders you've created (you can find mine here)
- Lists of favorite books
- Library rules
- Links to book trailers or other products you've created
Finally, be prepared for anything. I once went to an interview where they told me I would have 30 minutes to create a presentation outlining the story elements of a book of my choice. Then, I had to present it to the committee. I had no idea I would be doing this, but it just so happened that I had a paper copy of a similar Powerpoint I'd created with me. That would have been really tough to do if I didn't have that outline. Expect the unexpected.
Good luck!
Do you have an elementary librarian interview coming up? What questions do you wish I had covered? If you've been a librarian for a while, what did I leave out? Leave your suggestions in the comments.